Power Quality
Electrical service that adequately powers equipment to function properly is essential for all businesses. Voltage surges, sags, interruptions, and harmonic distortion can create conditions which interfere with equipment operations and data integrity. Our Power Quality Team was created to ensure the electricity powering your facility meets our high quality and reliability standards.
Working to exceed your power quality needs: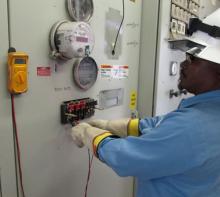 Response to inquiries within 24-48 hours
Site visit scheduled within one to two weeks of initial inquiry
Monitoring period normally conducted for one to two weeks
Report typically issued within two weeks following monitoring
The Power Quality Team is ready to serve
The Power Quality Team provides testing, evaluation, technical analysis and reporting services at no additional cost to our customers. The Team is comprised of SDG&E engineers and technicians who provide technical expertise and practical solutions for a wide range of power quality concerns.
Employing a comprehensive audit approach
The Power Quality Team will perform a reliability and power quality audit to determine the source of the problem or proactively perform a benchmark audit to identity vulnerabilities or areas that could cause a problem in the future. The audit consists of the following steps:
Power quality site inspection
Electricity service monitoring
Reliability review and reporting
Contact us today at PowerQuality@sdge.com.
For immediate assistance with electrical service issues or to report an emergency please call 1-800-411-7343.