Tours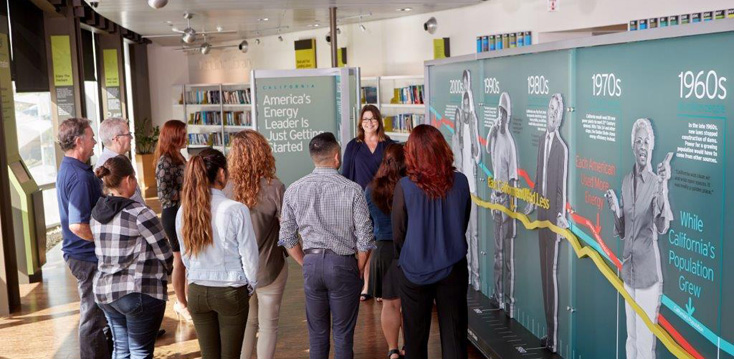 Join us for an hour and learn how we mixed energy efficiency, water conservation and sustainable materials to make a state-of-the-art, LEED® Platinum Building. Learn how you can do it too!
Group tours
Reserve your spot by filling out the "Tour Request Form" below and sending it to EICReservations@semprautilities.com
Self-guided tour
Take your time and explore the center on a self-guided tour. Our interactive displays make it fun to learn! No appointment needed (if you're a teacher or large group, please contact us first by completing the tour request form).
Student tours (special program)
If you are a school or school teacher of students grade K-12, then you may qualify for a customized educational tour focused on energy efficiency and sustainability. Student tours are interactive offering hands – on experience for various grade levels.
Send your completed tour request form to one of the following email addresses:
Grade K-8: The Energy Coalition (TEC) Siria Salas ssalas@energycoalition.org
Grade 9-12: Strategic Energy Innovation (SEI) Liz Fitzpatrick lizfitzpatrick@seiinc.org
Highlights
Even our trees are solar. Our parking lot features Solar Trees® — covered parking areas with solar panels on top that provide both shade for your car and power for the region.
Our carpet's a retread. Literally, it's made from recycled tires. Most of the items you see in the center are made from recycled materials, including our furniture.
Bright ideas. The center features the newest technology in lighting, reducing our energy use. Each room is equipped with sensors that automatically turn off the lights when it's not being used.
The sky's the limit. Don't miss seeing all of the rooftop technologies through our state-of-the-art periscope.
Smart Home
Step into the home of the future. Built with sustainable materials, an energy-efficient kitchen and cutting-edge technology this connected home can be controlled through voice activation, includes interactive displays and has a state-of-the-art energy hub.