EcoChoice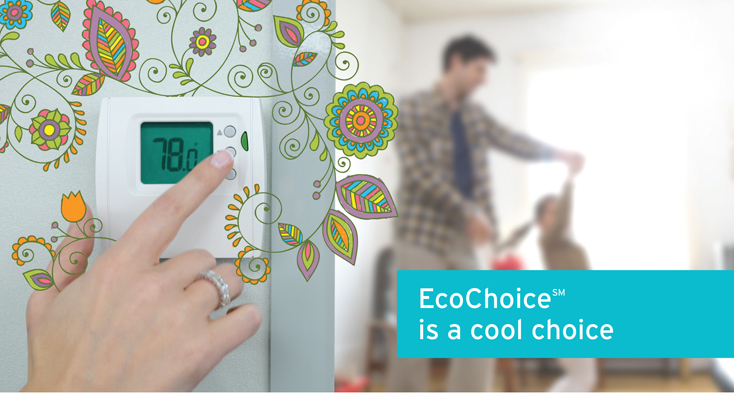 Get up to 100% of your energy from renewable sources with SDG&E's EcoChoice.SM This program is a great option if you want more renewable energy, but don't own your home, can't afford the upfront costs of solar or don't have the ability to put solar panels on your roof. The best part is for many customers, there's no additional cost.
EcoChoice has reached its enrollment capacity for commercial customers only. If you're a commercial customer interested in enrolling, complete an application and you'll be added to our waitlist. We'll contact you once space is available. The program is still available for residential customers.
How It Works
You can enroll to have from 50% to up to 100% of your electricity to come from renewable sources and in turn, we buy renewable energy from generating facilities built specifically for EcoChoice.
Renewable energy facilities take time to build, so a temporary pool of solar facilities (Interim Pool) will be used until new renewable energy generating facilities come online.
Learn more about the source of clean energy for EcoChoice customers.
Enroll Now!
Enroll in EcoChoice by clicking on the button below. Please have your SDG&E account number (Can be found at the top of a recent SDG&E bill or by logging into sdge.com/MyAccount.) Be sure to review program price, terms, and conditions in the EcoChoice tariff. A minimum one year agreement is required and termination fees may apply. You can also enroll in EcoChoice using our paper application (pdf).
Note: Customers currently on a distributed generation rate such as Net Energy Metering (NEM), a pilot rate, or participating in Direct Access (DA) are not eligible to participate in EcoChoice. Additionally, participating EcoChoice customers will have reduced functionality in My Account. See the Frequently Asked Questions page for more details.
How much does it cost
For many customers, enrolling in EcoChoice has no additional cost and may even result in a credit. You can use our
EcoChoice Cost Calculator
to estimate your cost or credit each month.
Program Documents
Frequently Asked Questions
Check out our Frequently Asked Questions for answers to common questions. More questions? Please contact us at CTTS@sdge.com.

EcoChoice is Green-e Energy certified, and meets the environmental and consumer-protection standards set forth by the nonprofit Center for Resource Solutions. Learn more at www.green-e.org
Withdrawing from the program

EcoChoice has a minimum enrollment term of one year with a 60-day grace period. If you cancel your participation after the 60-day period has expired, a termination fee will apply. After you have been enrolled in EcoChoice for one year, you may cancel at any time without penalty.