Mobilehome Park Utility Upgrade Program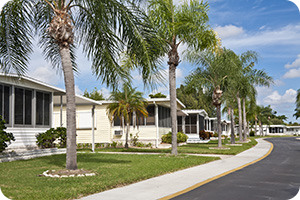 The Mobilehome Park Utility Upgrade Program is a voluntary statewide pilot program open to mobilehome parks (MHPs) and manufactured housing communities through 2019. After significant progress during the initial pilot phase, SDG&E is seeking to extend the program through 2023.
About the program
The goal is to replace aging MHP-owned energy distribution systems with new utility-owned systems from communities that:
Receive utility service from a master-meter for electricity and/or natural gas.
Distribute energy from the master-meter to residents via submetered systems owned, operated and maintained by the MHP owner.
Within our service area
About 305 mobilehome parks and manufactured housing communities with a total of 33,073 residence spaces are eligible for new energy systems to replace old master-metered and submetered systems.
During the initial pilot stage, funds were available to convert approximately 3,300 or 10% of the eligible residence spaces to direct utility service.
After approval of SDG&E's Advice Letter in September 2017, an additional 1,700 or 5% of the eligible residential spaces are now eligible for participation in the program.
In order to participate in the pilot, all the residence spaces in an MHP would need to be converted.
What to expect
Watch this video to learn what to expect when a park is converted to direct utility service.
Open enrollment period closed - Pilot participants selected
The open enrollment period for property owners to submit a one-page Form of Intent is closed. Each MHP or manufactured housing community was required to submit a form to be considered a candidate for conversion. This intent form was due to the California Public Utilities Commission (CPUC) Safety and Enforcement Division (SED), with a copy to us.
The CPUC SED worked with the California Department of Housing and Community Development (HCD) to choose pilot program participants based on the responses received. All parks that submitted a CPUC Form of Intent should have received noticed from the CPUC regarding their participation status.
For questions regarding your park's eligiblity in the program, the selection process or this program, please visit the CPUC website.
If your Mobilehome park has recently been upgraded, we would appreciate it if you could let us know how the process went by taking a short survey.

Your Anonymous Survey Link:
Learn more
For more information, see the Q&As, fact sheet and program schedule below. Or, call our toll-free Mobilehome Park Utility Upgrade Program Line at 1-855-846-7171.
Program schedule
Schedule for Mobilehome Park Utility Upgrade Program*

October to December 2014

Program information and intent form made available to MHP owners

Jan to April 2015

Open enrollment – Now Closed

April 2015 to Dec. 2017

Selection and notification process for eligible pilot MHP Owners, and ongoing construction to upgrade MHP residents to direct service

November 2017 to February 2018

MHP Owners selected during 5% program continuation phase are notified, and participants provide detailed information for engineering review and sign MHP conversion application

Spring 2018 to Fall 2018

MHP Owners/Operators select their beyond-the-meter contractor and sign MHP conversion agreement prior to commencement of construction

Fall 2018 to Dec 2019

Construction ongoing to upgrade MHP residents to direct utility service
* The California Public Utilities Commission approved Decision 14-03-021 on March 13, 2014, establishing this voluntary pilot program for mobilehome parks and manufactured home communities. This program is funded by California utility customers and administered by SDG&E under the auspices of the California Public Utilities Commission.