Save Up To $125 On Eligible Smart Thermostats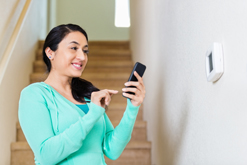 Have you been thinking about getting a smart thermostat? Along with automatically controlling your home's temperature, they're also easy and convenient to control on your smart device or connected-home system.
Now, there's another benefit - purchase a smart thermostat and save up to $125 in three easy steps:
Purchase and install an approved smart thermostat
See (and purchase) eligible models
Take advantage of our new $50 thermostat rebate.
Learn more
To receive an additional $50 to $75 - enroll in Reduce Your Use Thermostat, and if you qualify, you can get a $50 e-gift card. Plus, get another $25 for each summer you participate in the program
Learn more
Invest in a smart thermostat and get immediate savings as well as an easier way to manage your energy bill. Get yours today.