Wood Pole Inspections Guidelines
Wood Pole Inspections are required to ensure the integrity of the pole structure, and occur on a 10 year cycle. Each pole is inspected visually. All poles, 10 years or older are inspected intrusively. An intrusive inspection includes excavation around the pole base and/or a sound and bore of the pole at ground line. Poles are treated on the surface with a paste and/or internally with a liquid wood preservative. SDG&E inspects approximately 20,000 poles each year.
Weakened poles are reinforced with a C-Truss, a metal structure attached above and below the ground that provides structural stability.
The choice to restore a pole with a C-Truss rather than replace the pole is based on the strength of the pole which is measured by remaining shell thickness.
Wood Pole Inspection - Test and Treat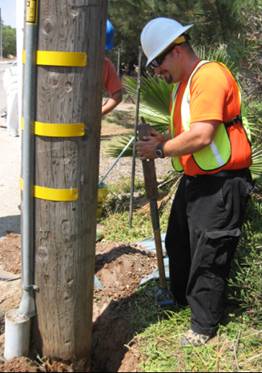 Wood Pole Inspection - Test and Treat