Borrego Springs Microgrid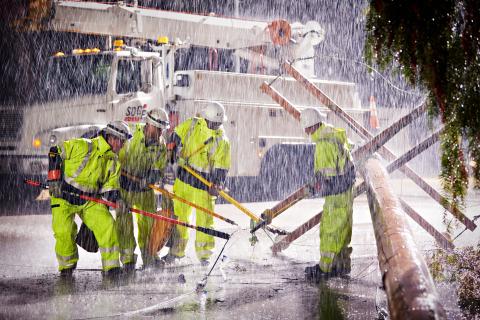 Conditions: Intense thunderstorms
On the afternoon of Sept. 6, 2013, intense thunderstorms blew into Borrego Springs, causing heavy rain, flash floods, high winds and severe lightning. Lightning from the storm struck and shattered a power pole on the only transmission line serving the community, cutting electricity to the town's 2,780 power customers.
Restoration efforts
SDG&E repair crews quickly arrived on the scene and worked through the night to restore power to all customers. This wasn't a run-of-the-mill power restoration because crews were able to make use of a special advantage: SDG&E's Borrego Springs microgrid.
View the Borrego Springs Microgrid video to see how SDG&E's Microgrid leveraged local renewable energy to power the entire community of Borrego Springs.
Smart Grid technology
The first of its kind in the area, this microgrid uses Smart Grid technology; including local power generation, local energy storage and automated switching; to create a more robust, resilient grid that can dynamically react to changing environmental and system conditions. The microgrid is connected to the Smart Grid, but can disconnect and function independently during emergencies, supplying vital electricity to the local community through its onsite resources.
Glimpse of the future
The Borrego Springs microgrid offers a powerful example of what new Smart Grid technology can do. When this experimental project was used during an actual power emergency, it gave us and our customers a glimpse of a possible "utility of the future" – one in which the grid itself can respond to outages by routing and restoring power where it is most needed, bringing vital energy to residents and quite possibly saving lives in the process.